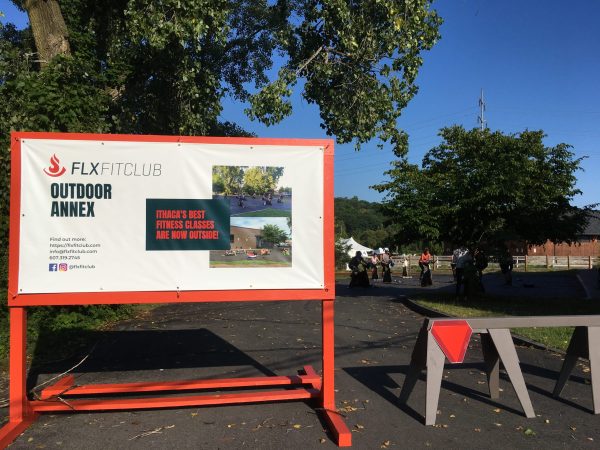 Here are 7 simple rules we all need to follow when attending classes in our outdoor space (the "Outdoor Annex").
Use marked workout zones


Find a marked spot on the ground to stand. (Spots are marked with duct tape and are 12 ft apart.) This is the center of your workout space!

Social distancing and masks
Maintain 6 ft of space between you and others at all times. If this is not possible, wear your mask. Please put your mask on when moving outside your workout space. You can remove your mask during the workout!
No mask? Just ask!


Need a mask? No problem! We can give you a disposable one to use.

Getting equipment for your workout


For cycling classes, we will put the bikes out for you. For PUMP and CXWORX, we will set out bars, plates &/or benches for you to grab. Please, take only what you need, and avoid crowding at the equipment area. (And if you need something that you don't see, ask your instructor.) Remember to bring your own mat if you would like to use one!

No shared equipment
Under normal circumstances, we love your help passing out equipment and that you share with each other when we run low. But for now, please don't share equipment or handle equipment other than what you're using.
Cleaning equipment


For equipment-based classes, we will provide everyone with a spray bottle of CDC-approved disinfectant and a fresh cleaning cloth. After class, please use this to clean any equipment you've used. If you would like to clean the equipment before you use it, feel free! Used cleaning cloths can go in the "dirty rag" bin. We will put all equipment away.

Bathroom access and water refills
You may enter the building to use the bathroom or refill your water bottle. Please use the unisex bathroom in the hallway, and don't forget to wear your mask (and wash your hands)! We also have hand sanitizer outside that you can use any time.
Still have questions about what to expect? Check out our Outdoor Class FAQ's!