About FLX Fitclub
Co-owners Chantelle Farmer and Sue Manning (along with our fantastic team) opened FLX Fitclub in March 2017, with a focus on providing an exceptional group fitness experience. Everything we do is in support of that goal. We have high standards for our classes, we invest in the best equipment, we listen and respond to feedback, and we treat our members and each other with respect. Oh, and most importantly – we try to have FUN!
FLX Fitclub in the news:
Meet Our Instructor Team
We are incredibly fortunate to have this talented group of instructors who are all dedicated to giving you an outstanding class every single time. Want to get to know us all a little better? Find out what we love about teaching group fitness, and what else we do with our lives outside of the club. (And if you see us out & about at restaurants, races or just enjoying the great Ithaca outdoors, be sure to say hi!)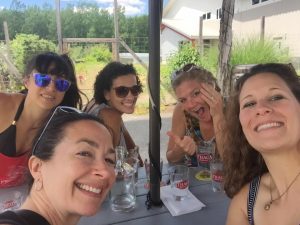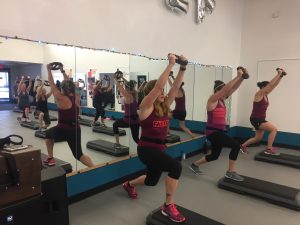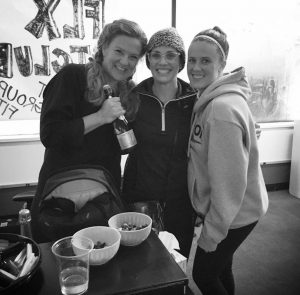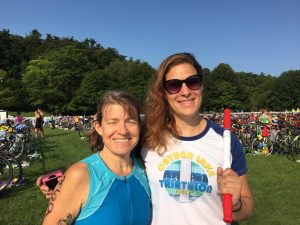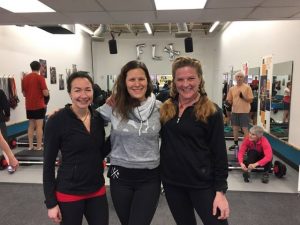 Amy
Certified in Les Mills BODYSTEP & BODYPUMP
How she fell in love with group fitness:
I started taking group fitness classes 5 years ago after becoming bored with the same treadmill/elliptical workout every day. After taking a step class with Jess, I was hooked!
What she loves most about teaching:
I love the energy that everyone brings. From the chatting and laughing before class to the hard work (and fun!) during the workout- the energy that is brought to every class keeps me going.
Her favorite class to teach:
Step will always be my favorite, as it was my first certification and first class that really got me hooked on group fitness.
When she isn't teaching:
When I'm not teaching, I am raising my 3 (very) busy kids. I also spend a lot of time going over notes and learning new (and sometimes older) releases in my programs. I love to see how the programs have changed over time and also like the variety of having many different releases to choose from.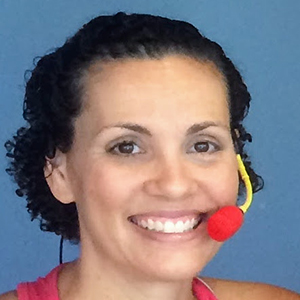 Carrie
Advanced Level Certifications in Les Mills RPM, BODYATTACK, BODYPUMP & BODYSTEP; Certified in BODYCOMBAT & BODYVIVE
How she fell in love with group fitness:
My love for group fitness started as a kid watching my mom teach classes at her aerobics studio. I spent much of my time after school and during school holidays at the studio helping check people in for classes and babysitting kids while parents were exercising. I was fascinated by the the whole process of what went into each class. Sorting through stacks of albums to find the right songs, putting together routines, practicing, and then it all came together. The music, the energy, the workout…it was magic!
What she loves most about teaching:
I love seeing people be successful. It doesn't matter how big or small the goal – one more burpee, getting the cha cha cha rhythm in BODYSTEP, riding fast, or generally getting fitter. There are successes big or small in every class and it is amazing to be a part of that.
Her favorite class to teach:
Each Les Mills program is unique and motivates me for different reasons. I connect to the music in RPM, the workout in BODYPUMP, the variety in BODYVIVE, the intensity in BODYATTACK, and the fun in BODYSTEP. My all time favorite is BODYSTEP. It has been ever since I was a participant because it offers the best balance of energy, fun, and hard work!
When she's not teaching:
Home is where the heart is for me. I enjoy family time and can often be found at the soccer field watching my sons Max and Ben play soccer. My hobbies are in the kitchen cooking and wine tasting. I work for the Office of Vice Provost for Research at Cornell University as a product manager focused on research administration systems.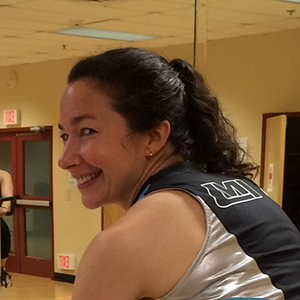 Chantelle
Elite Level Certification in Les Mills BODYPUMP; Advanced Level Certifications in RPM & BODYFLOW; also certified in BODYATTACK, BODYVIVE & Mad Dogg Spinning; ACE Certified Group Fitness Instructor
How she fell in love with group fitness:
My relationship with group fitness was not love at first sight. It started with an old-school aerobics class to fulfill a college PE requirement, then a few years of trying different classes on & off. (The first class I that really hooked me was step, believe it or not!) But then I found indoor cycling and I loved the way the music and the workout meshed and you could lose yourself in the experience. It didn't even seem like working out. But I was still bored lifting weights… until someone told me to try BODYPUMP. And that was love at first sight!
What she loves most about teaching:
I love seeing new people come into class and watching their confidence grow. I love hearing stories about how classes helped get someone measurably fitter or healthier (like the woman who told me her bone density increased after a few months of BODYPUMP). I love seeing the pain on people's faces turn to joy after finishing a killer workout!
Her favorite class to teach:
It's a tough call… I love them all for different reasons, and I like working on finding different aspects of my teaching style to best complement each one. But my true love is BODYPUMP. It makes me feel alive!
When she's not teaching:
When I'm not preparing for or teaching classes, you'll find me working on all the other aspects of managing FLX Fitclub. And sometimes it's hard to remember that there are other things in life! But recently I've been spending most of my other time doing a little website consulting, looking after my furbabies (3 cats – Jinx, Jasmine and Oliver – and a little old chihuahua mix named Pedro), taking long drives to get ice cream, and hanging out in front of the TV with my patient & supportive husband, Rob.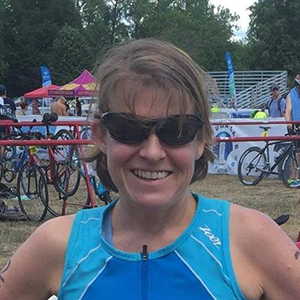 Christina
Certified in Les Mills RPM
Hi, my name is Christina. I fell in love with cycling and group fitness about 12 years ago, after my last child was born. I needed a way to get back in shape quick! At the same time I started running. I decided to take the leap and get trained to teach RPM, a format I absolutely love, about 2 years ago. I am excited to be part of the FLX team. My #1 goal is to balance demands of family life with staying mentally and physically active. I love teaching RPM and hope to improve as an instructor as I continue to grow with the motivated members we have here at FLX.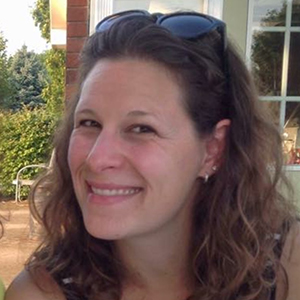 Jenny
Advanced Certifications in Les Mills BODYPUMP & BODYATTACK; Certified in RPM & BODYVIVE; selected by Les Mills for RPM presenter bootcamp
How she fell in love with group fitness:
I started out as a runner and all of my running partners and friends told me about BODYPUMP. I started taking class after grad school as a way to socialize with friends and incorporate variety into my fitness routine. I LOVED (and still do) how the moves complimented the music and how having people around me forced me to keep going whenever I wanted to stop. Through Les Mills classes I met some of my best friends who are now fellow instructors and the rest is history!
What she loves most about teaching:
I love meeting people in group fitness classes and seeing how the workouts we do have such a positive impact on our overall health, wellness, and happiness. We inspire each other, support each other, and have a whole lot of fun together. Also…the music is AWESOME!
Her favorite class to teach:
I think BODYPUMP is my favorite class to teach. I am biased towards Pump because it was my first Les Mills class ever and the first class I taught. It also lends well to my general lack of body coordination!
When she's not teaching:
When I'm not teaching at FLX I teach middle school and high school chorus in Trumansburg, and occasionally I perform with adult choirs in the area. Otherwise you can find me at Viva or singing show tunes with Jessica at the karaoke bar.
Favorite motivational quote:
Just do it.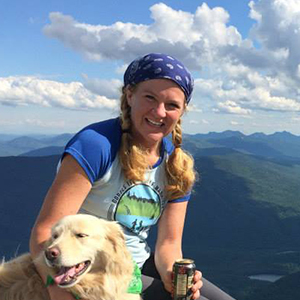 Jessica
Advanced Certifications in Les Mills BODYSTEP & BODYPUMP; Certified in BODYCOMBAT, RPM, SH'BAM, BODYATTACK & BODYVIVE
How she fell in love with group fitness:
At the age of 32, I found myself quite overweight and in need of a serious lifestyle change. It took me many tries to actually get inside of a gym and even more to do anything but run on a treadmill. When I finally got up the nerve to take a class, I fell in love immediately and wished I hadn't waited so long. It's totally corny to say but, when I took group fitness classes, I felt like the person that I wanted to be inside and out. I loved the people and the movements and the music and how I felt after. A year later, I wasn't out of shape anymore and I was certified to teach those classes that I was so terrified to take!
What she loves most about teaching:
I love the bonds that are created among friends when they work out together. When you sweat together and challenge each other and keep each other accountable, you form a friendship that's at the heart of group fitness (and definitely at the heart of FLX!). I'm proud of my participants when they accomplish goals they've set for themselves or when they master something that they've struggled with – and that pride makes me feel good too.
Her favorite class to teach:
I will always have the softest spot in my heart for BodyStep. Regardless of what class it is, my favorite workouts are the ones that I smile the whole way through. I think that working out should be fun first and hard work second.
When she's not teaching:
I don't like to sit still! Travel is my #1 love – to anywhere new, exotic, and off-the-beaten path. I love to run and mountain bike all the gorgeous trails in Ithaca with my crazy husband, Joel, and our 2 dogs, Zephyr and Pushface. I'm active with the Ithaca Hash House Harriers (a drinking club with a running problem!) and I love wine tasting in the Finger Lakes. You'll often find me with binoculars birdwatching around the lake or climbing a High Peak and backpacking in the Adirondacks.
Favorite motivational quote:
The best time to plant a tree was 20 years ago. The second best time is now. –Chinese proverb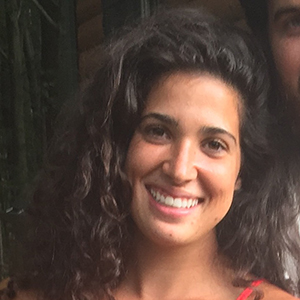 Maria
Certified in Les Mills BODYPUMP
Hi! My name is Maria Scherer, I am a junior at IC and I'm studying to get my BFA in Musical Theatre. Theatre and dance are my first loves, but I found that in order to stay in shape mentally and physically, I needed to instill a regular fitness routine. I've grown up in a family of runners so that has always been my favorite way to exercise. I love running outside, it's instant zen! I started taking Bodypump to add a strength element to my training and it truly changed my body. Bodypump makes me feel powerful and invincible, and that is why I decided to start teaching, so I could inspire that incredible strength in others. There is no feeling quite like standing in front of a group of people that inspire you. I'm so thankful for the opportunity to do that. Group fitness is such a wonderful way to work out in an environment filled with support and community. When I'm not teaching I am probably trying out a new recipe in my kitchen, one day I'll be on the Food Network! I'm so excited to join the FLX family.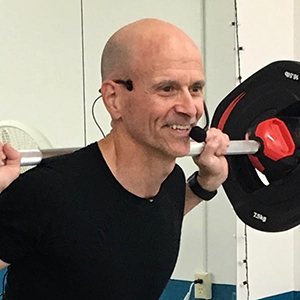 Steve
Certified in Les Mills BODYPUMP
Some of his favorite things about group fitness:
The combination of the music, the muscle, and the movement, all as one. Working out in a group is fun, and getting to know the people in the classes creates a community.
Why he teaches:
To help people reach their health and fitness goals. I am 58, and think being an older instructor can inspire others to see fitness as part of their lifestyle, throughout life.
What he loves most about teaching:
Tapping into the energy of the group. Together we all do more, and you can feel that during a class.
When he's not teaching:
I work in IT Security at Cornell. Outside of work and fitness, I enjoy working on projects related to renewable energy and sustainable living, having installed my own solar array which powers my house, car and motorcycle. (Yes, they are all electric!)