In-Studio Class Rules (COVID-19 Edition)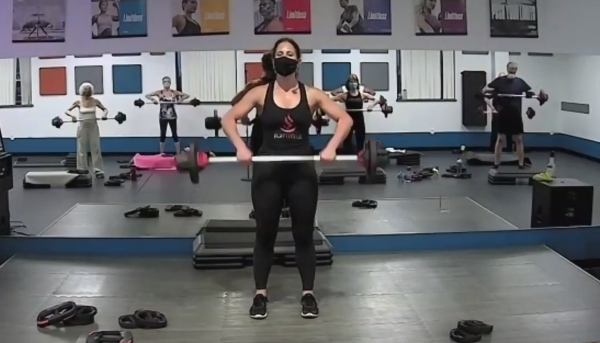 Here are a few simple rules we all need to follow when attending classes in the studio right now. Thanks for doing your part to help keep us all safe!
Unless you are fully vaccinated, wear a mask
As of May 19, 2021, those who are fully vaccinated have the option to work out indoors without a mask. Otherwise, you must wear a cloth or disposable mask at all times (even during class). If you forget your mask, we can give you a disposable one. The mask needs to cover both your mouth and nose. You can remove your mask to take a drink of water!
Make sure you have a reservation (and show up on time)


You

must

have a reservation to attend class. And to limit disruption and the potential for accidental interpersonal contact, we strongly discourage late arrivals. If you do arrive a few minutes late to a main studio class, please wait for a break in the action before entering. In the cycling studio, enter quietly and be ready to go.

If you're experiencing COVID-19 symptoms, please do not come to the studio


Please don't try to power through a workout if you're experiencing symptoms or feeling sick. Rest up and make sure you're ok before returning!

Observe social distancing


Please maintain 6 ft of space between you and others whenever possible.

Use marked workout zones in the main studio
Individual workout areas in the main studio are taped off into squares. (They are more than 6 feet apart!) Claim a workout space when you arrive, and stay within this area as much as possible.
Get equipment for your workout before class starts


For equipment-based classes, we will put a basic set of equipment out for you. If you need other equipment, please get it before class starts and avoid crowding at the equipment area.

Please do not get equipment or put it away during class!

No shared equipment


Under normal circumstances, we love your help setting up equipment and that you share with each other when we run low. But for now, please touch only the equipment you are personally using.

Clean your equipment


For equipment-based classes, we provide everyone with a spray bottle of CDC-approved disinfectant cleaner and a fresh cleaning cloth. After class, please use this to clean any equipment you've used. If you need to leave early, we will clean your equipment for you. Please discard used cleaning cloths in the "dirty towel" bin.
Still have questions about what to expect? Check out our Indoor Class FAQ's and our COVID-19 Studio Safety Protocols.