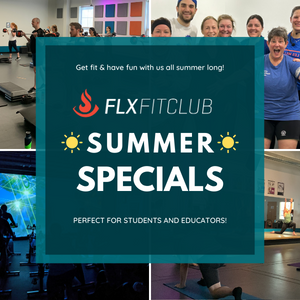 FLX Fitclub Summer Membership Specials
Want to get (or stay) fit & energized, meet awesome people and have fun this summer?
Get 10 weeks of unlimited fitness classes or a 10-class Summer FLX Pass at a special rate. Perfect for anyone with a little extra time during the summer months. (Students and teachers, we're talking to you!)
Sale ends June 21, so sign up now!

$245
Make this your summer of fitness at FLX! This paid-in-full membership gives you unlimited access to all of our fun & energizing in-person, virtual and recorded classes for 10 full weeks… at 10% off our regular unlimited rate!
And btw, although we really think you'll love it here, if you're not happy after your first class, just let us know within 24 hours. We'll give you a refund and sadly wave goodbye.

$109
Add 10 fun & energizing fitness classes to your summer schedule. (And save $20 off our regular rate!)
Note that these classes expire 3 months from the date of purchase; sorry, no extensions or refunds for unused classes.